My 1999 EJ6 Coupe Project.....Time for a Change!
Currently she stands adorned in a full Delta 4 Bodykit, front and rear bumpers, side skirts, bonnet, smoothed boot, lambo doors, 19" Konig Tuner 2's etc but my enjoyment for this has been and now passed, its time for a new path to be taken and together me and the Coupe are going on a mission. Some pics below of how she currently stands......
Some of you may have noticed little hints dropped here and there over recent weeks about the new direction I am going with my Coupe. I've been steadily collecting the parts I need like the standard front and rear bumpers, the bonnet (which are surprisingly hard to find for a facelift) and finally I got my hands on the new engine on Saturday.......the D16Y8 from a EJ8 SR Coupe.
Now if I'm doing something I have to do it right, granted its not a B16/B18/H22 but this isn't meant to be the project to end all projects, its a learning curve, a step in the right direction, a time for me to show some love to make up for the last few months of standing whilst hunting for the parts ready to hit it hard and come back with something completely different to the current look.
Last night was spent tidying the garage and making it homely, this is where I am going to be spending the next couple of weeks of my life so speakers were taken in for my phone to run through, a comfy camping seat, my gas heater and a place for the beers to sit keeping cool. The next step...............deciding where to start. Now this wasn't easy, there are bits that need finishing on the bumpers, the bonnet could do with a good clean but with the engine sitting there I couldn't resist introducing it to my ratchet set and begin taking parts off. The first thing was to remove the fuel rail so I could access the bolts for the intake manifold, the bolts are either a 10mm or 12mm head, a universal joint is helpful but not essential, all the bolts were lined up nicely on a sheets of paper with their locations detailed to help putting it all back together. Once the rail and injectors were off I set about removing the intake, came off easy as pie and with a few more bolts for brackets removed it was ready to be wire brushed. As you can see below, its in fair condition but can always be improved.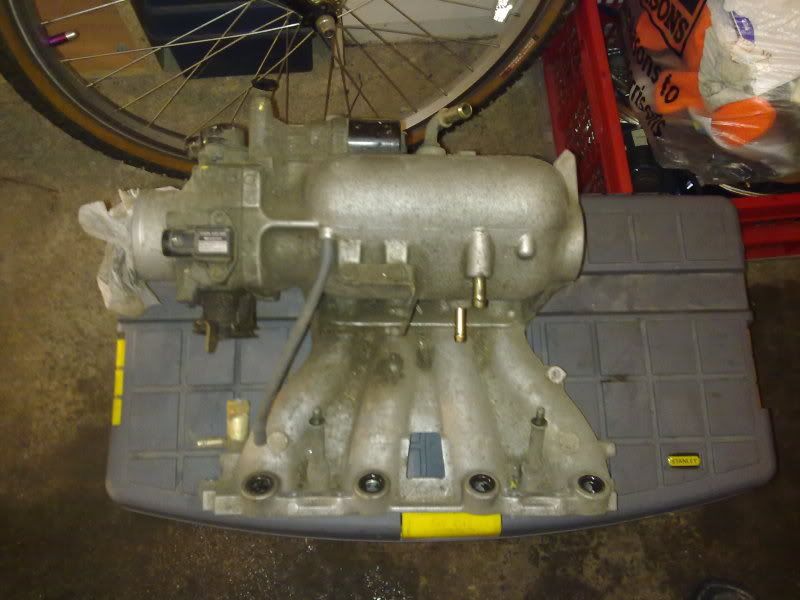 I sat myself down with a John Smiths (or 4
) at my side and started the 3 hour process of wire brushing the various nooks, crannies and holes in sight. A few slips, some cuts and some swearing later and it was starting to show a great improvement. As you can see below its starting to shine, some way to go yet but the effort is paying off.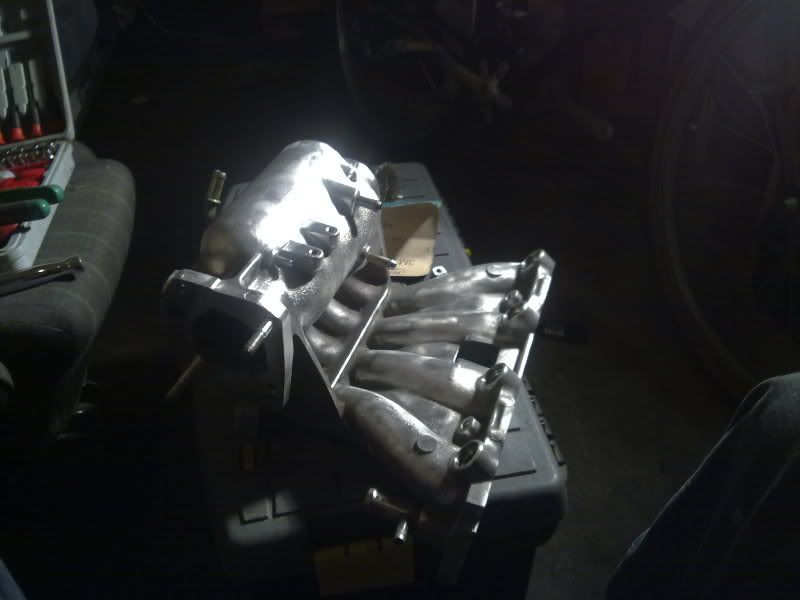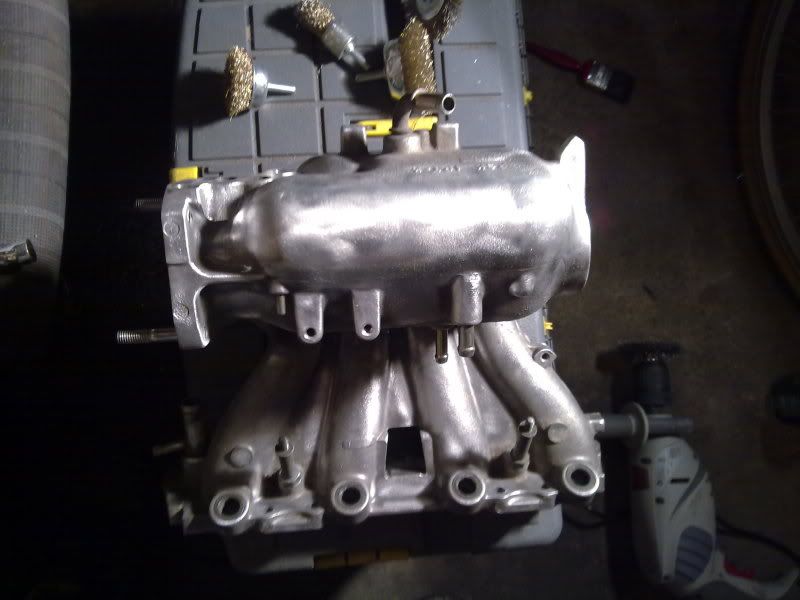 Its not until you take on a task that you realise what bits and tools you're missing, a flap wheel or 10 with varying grades would be nice and I could do with some gunk to clean the block so they have been added to the shopping list along with the inlet manifold gasket, throttle gasket, exhaust manifold gasket and rocker cover gasket.......I can see the costs mounting up already but she's worth it
Well thanks for looking guys, the story shall continue as the days go by, looking forward to the weekend now , 2 days of solid work :mrgreen:
Despite my attempt to plan ahead I have some questions and hopefully you guys can help.
1/ What product would you guys recommend to flush the inlet manifold to make sure its clean of all the debris from the cleaning? There is one sensor left as you can see in the pics but I can't figure out how to remove it and without my haynes manual (lost somewhere in the shed, finding it is on my list of things to do) I'm stumped as to what it is.